OMG HOLY TEGO!
Just as the picture asks, is he obsessed? I noticed this from before and so I investigated it. I ended up with over 18 pictures, and at least 3 performances where he wears a
rosary around his neck
. Why does he do this? I do not know. Maybe he thinks it's cool. But, to some people, it is just bizarre. You see, I was born and raised Roman Catholic (
before I turned agnostic)
and I grew up revering the
ROSARY
as a
Sacred Object.
We do not treat it as a
fashion accessory
- however, this is Japan and though there is a community of Catholics there, they are mostly Zen Buddhists and do not know the significance of the rosary.
So I gave it some thought, and I investigated when he started doing this. I came up with he started doing this in 2006 and still does it up to the present. Though he does take it off in some photoshoots, Tego-nyan still wears it in most of them. It got me inspired to write this drabble and provide you with a
HOLY TEGO Picspam. ENJOY!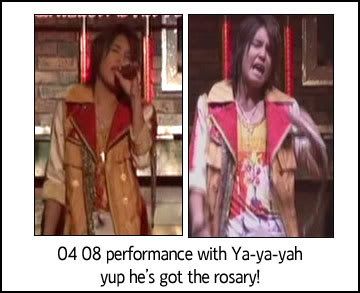 PERFORMANCE #2: SUNADOKEI MU