Or I should say, it is a prank from JE? I was informed by my friend! Well, It has turned 1st April in Japan, so, visit HERE to see how they pranked us fans!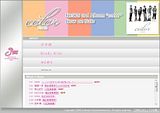 Notice how there's a new link that ended with "NEW?!"? That's the prank~:)
And when you clicked on the preview, it actually said it was an April Fool prank and please wait for the real preview to come~
And yeah! Full preview will be released on 2nd April!
Edit
Translation
まだ試聴できません。
今日は4月1日。エイプリルフールです。
試聴が本当にスタートするまで、
もうしばらくお待ちください。
でも、アクセスしていただいたみなさまに
お知らせがございます。
明日、4月2日放送の文化放送「レコメン!」で
新曲をフルオンエアします。
お楽しみに!
you still can't listen the preview!
Today is 1st of April, April Fool day!
Please wait until you listen the preview for real!
But here is a notice for everyone (to access)
but for all the people who accessed, here is a notice for you (Thanks
cacti_lover
for the correction!)
Tomorrow, 2nd Of April, the FULL SONG will be aired on
HERE
(i don't know the full name of the show so im giving the link >>'), on the pragram called "RECOMEN". ENJOY!
Thanks
colorfulkizuna
for google translations and
onigiri_lolita
for translations!