I just thought I should remind you Singaporeans about a few things:
1. There is a LJ community for Singaporeans, and the link to that community can be found HERE.
That community is awesome. Really.

You will be able to find a schoolmate (or even a neighbour) through that website.
2. SISTIC is doing a poll of what gigs to bring here. Since SISTIC is the only organiser for concerts, performances and other big acts in Singapore, I assume they are the ones who will determine if our fandom gets brought in or not.
Currently, the top 5 looks like this: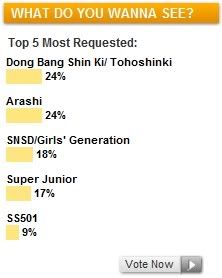 You know what you have to do 8D
[Cross-posted to Arashi_on, news_jpop, and kattunlove]