This post is for the Fanbook Project!

We've received 4 lovely designs for the fanbook! Please look at them and then vote for which one you like best! Each image is a thumbnail so they get bigger! Keep in mind that these designs are rough drafts. Please vote for the concept you like best!
voting ends Friday August 6th at 11:59pm EST



Entry number 1

Entry number 2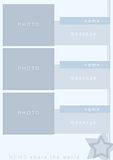 Entry number 3
Entry number 4




Please vote for your favorite design





We also have the fan map up! Please fill in you name and location on the map! Once it's all filled out We'll make an image of it and put it in the book.

Map deadline is August 15th

You can find the map HERE.
To add your name to it go to "Additions" and then select "Add Marker-Simple" and fill out the information!

It seems like the Map has been deleted I don't know why, but I'm looking into it and other alternatives. So sorry that this happened!!

It seems like its working again It might have just been too many people hitting it at once. Also there is a problem with the red markers. So try not to use those for now. I'll figure out how to fix the existing ones.

I'll link this post on the master post.